Preferences
[Location] Admin (menu) - Preferences - Site Preferences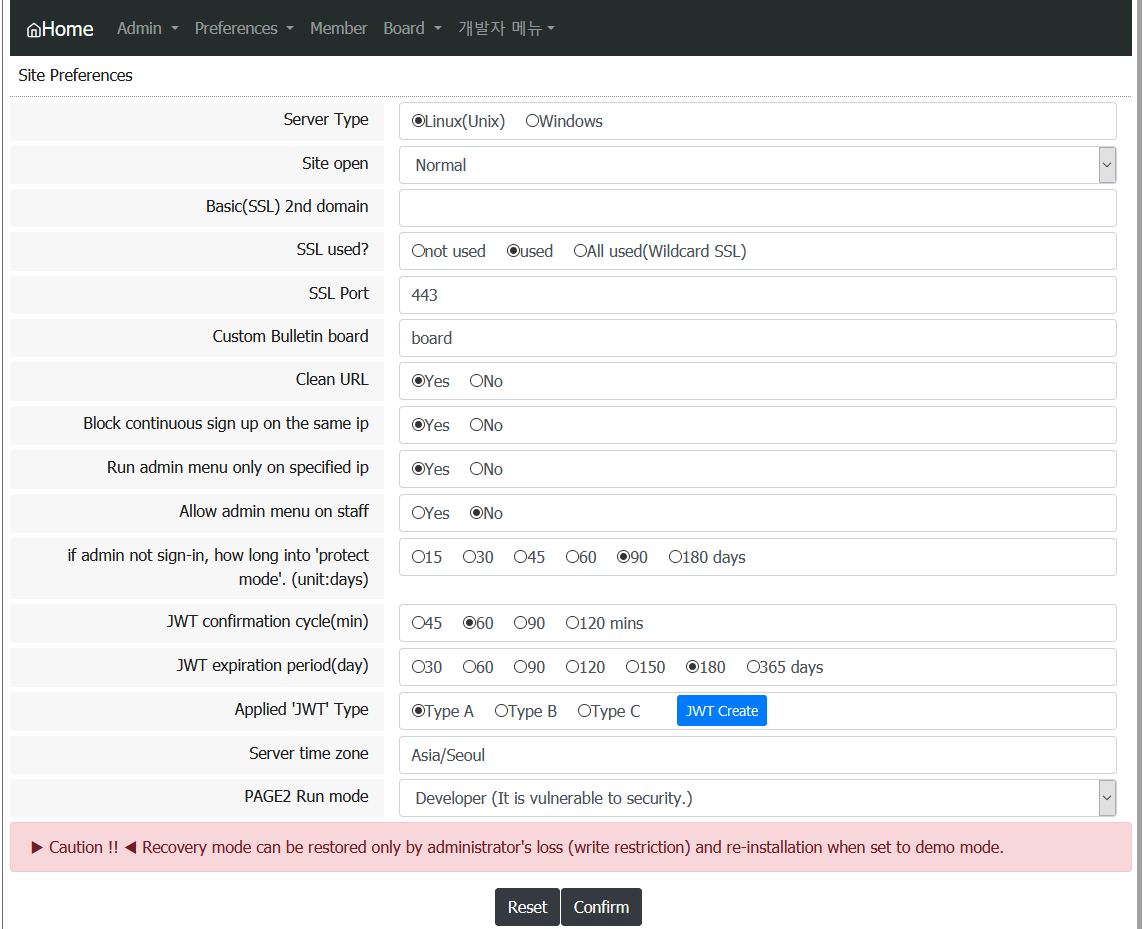 Field Description
Server Type
Linux(Unix), Windows (Not currently tested in Windows)
Set to Linux until further notice
Site Open
Each step contains a sub-step setting. For example, if you leave the status 'Only Members Access', both membership and post writing will be blocked.
Normal : Default value.
Block sign-up : New members will be blocked. Other functions on the website work normally.
Members Only : Access to member-only pages is blocked. Members who have already joined can use the service normally.
Block write : Unable to create new post. However, you are allowed to view posts.
Admin Only: Site access is allowed only by the administrator. Please use it to reorganize the site.
Basic (SSL) 2nd Domain
By default, 'www'.
If you use a portion of a domain that belongs to a school, work, or organization, it becomes a secondary domain.
Not enough consideration has been made for applying secondary domains yet.
SSL used
You have to own an SSL certificate. If you can start your homepage with https, you can set it to Enabled.
'All used' requires Wildcard SSL. This is not the case for most individual users.
SSL Port
The default port is 443.
If you are using the webhosting service, you must use the port specified by the webhosting company.
Custom Bulletin board
Apart from the main bulletin board in PAGE2, you can apply the bulletin board module yourself.
A concept that codes bulletin boards directly based on the PAGE2.kr framework or uses modules created by others.
Custom bulletins can be created without any restrictions on table creation, user interface, and so on.
Clean URL
Clean URL is easy to memorize and is a type that search engine likes.
You have to be able to make the relevant settings in the config file on the web server. (.htaccess, etc..)
# common url
http://site.com/p2.php?p1=page&p2=view&p3=menual..
# Clean URL
http://site.com/_pid/menual
Block continuous sign up on the same ip
This function prevents members from attempting membership with malicious intent.
Run admin menu only on specified ip.
You want to run administrator privileges only on the specified ip address (for security reasons).
'adminip.txt' file required in folder 'p2-data/_page'
# adminip.txt example
192.168.0.1   # Only 1 ip (or ip band) can be entered per line
192.168.   # Allow entire 'B class' IP band
Allow admin menu on staff
Use if you want to delegate administrator privileges to the management team.
if admin not sign-in, how long into 'protect mode'. (unit:days) : Site Auto protect
If the administrator (including the operating staff) does not log in for a specified period of time, the site automatically enters a 'write-protected' state.
When an administrator logs in, the site is automatically reterned to 'Normal'.
This feature helps prevent advertising or spam postings.
'Administrator log files' location : p2-data/logs/sys/admin.log
JWT confirmation cycle(min)
JWT(Json Web Token) : Token to keep you logged in.
When there is no operation after logging in, it is converted to the locked state after a specified time.
If a PIN code is not set, you are automatically logged out.
The recommended value is 45 minutes.
JWT excpiration period(day)
Valid for the specified date from the JWT issuance date.
Applied JWT Type
This is the random number file type required for JWT analysis.
JWT random number file location : p2-data/sess
JWT Create
Regenerate random number files required for JWT interpretation.
Except for the currently checked type, only the remaining types are regenerated.
To log out all users who have already been logged in, follow the steps below.

Change the type being applied and click 'Confirm'.
Click 'JWT Create'
Server time zone
PAGE2 Run mode
Normal : Default operating mode.
Developer : Program Developer Mode. Most of the system protection functions are inoperative.
Demo: Allow various functions of the system even when you are not logged in (currently under test, not yet complete).